News
Steel Projects is in Paris for the conference "Digital revolution in steel construction"
March 30th, 2017
Steel Projects has participated today at the conference "Digital revolution in steel construction", in Paris, with a speech on the theme "Modernization of steel construction using new technologies".
---
Steel Projects at NASCC in San Antonio
March 13th, 2017
Steel Projects will be present at NASCC from March 22 to 24. You will find us on Ficep Corp's booth #5036. Make sure to pay a visit!
---
Steel Projects in Kenya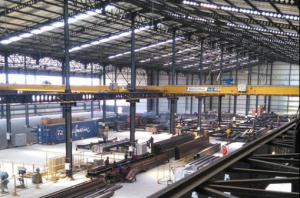 February 25th, 2017
Our Sales Manager Colin Maymon was in Kenya early February for a seminar organized in partnership with Tekla and Ficep. This trip was also an opportunity to visit our customer Zenith Steel, already equiped with our complete solution.
---
Steel Projects PLM 1.11 is now available!

February 18th, 2017
The latest version of Steel Projects PLM is now released, featuring the possibility to generate weld symbols to scribe them, to use our mobile application to analyze production, etc. Ask for your FREE update if you are subscribed to our SMART Program. Otherwise, get in touch with us for more information.
---