Transportation management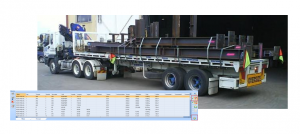 Shipping
Prepare and manage your shipments to the erection sites of your projects.
This module enables the preparation of packages and delivery tickets, the follow-up of loadings and also the traceability of deliveries.
For more flexibility, this features is availble on tablet, which allows the operator to input data close to the vehicles.
Optional
Optional
---

Choose your solution!
Steel Projects PLM is a scalable solution for fabricators of all sizes. We have got a solution for you!
---