Management of manual workstations
In order to fully digitize your workshop, we have developed a mobile application (also available on PC) to digitally manage manual workstations (assembly, welding, painting, quality control, manual cutting or drilling machines, bending, etc.). Android mobile application available on smartphone or tablet. A PC version is also available.
FEATURES
DEMATERIALIZATION OF WORK ORDERS
It saves you time as you do not have to go to each station to distribute steel fabrication jobs. It also prevents you
from using unnecessary paper works.
3D VISUALIZATION OF PARTS, BARS AND ASSEMBLIES
This feature help to visualize what has to be done. It is particularly useful
for beginners of your company.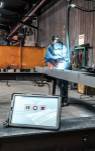 RECORDING OF PRODUCTION TIME OF SECONDARY PARTS, ASSEMBLIES, BARS, BATCHES OR OPERATIONS
You can then collect production times of pieces, but also operations. Then, you can track production, analyze productivity, and see how workers use their time.
ENTERING TRACEABILITY INFORMATION BY PART OR PROJECT
Traceability information can be entered in the steel fabrication application. Those can be welding wires used for an assembly or paint barrels for a batch for example. They will be useful to enhance traceability reports.
POSSIBILITY TO USE BARCODE OR QR CODE SCANNING SYSTEMS
This allows to facilitate the input for the operator as they do not need to type directly on the screen to enter data. All actions can be replaced by barcodes to scan instead.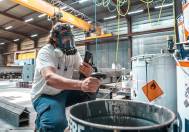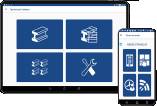 SIMPLIFIED ERGONOMICS FOR A QUICK INTRODUCTION TO THE APPLICATION
CONFIGURATION OF USER RIGHTS
In order to control what can be done by each of your worker, you can configure their user rights in the application.
REAL-TIME DATA EXCHANGE WITH THE STEEL PROJECTS PLM DATABASE
Data are sent automatically and live so you can see what is currently going on in the shop floor.
BENEFITS
Instant availability of useful information to maximize operator skills
Flexibility (Development of mobility in the workshop)
Time savings (Reduction of unnecessary travel and entry time)
Improvement of traceability management
Reduction of bottlenecks
Improvement of quality control