SMART program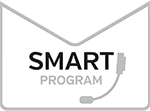 Software Maintenance Assistance and Remote Training Program
When you invest in our software, you are investing in years of experience, code writing, research and development. You are investing in the product as it exists today.
However, our product is never 'finished': We are always developing new features, enhancing the user experience, and researching new technology. To keep up with this continuous improvement, we offer you our SMART program.
High Quality Support
Technical Assistance and Support: Unlimited telephone and email support
Coverage for up to 18 hours of every working day1
Both phone and email support is distributed across our global software experts
All support calls generate a ticket that is tracked to completion
Includes Remote Access Support which allows our technicians to remotely access your desktop and provide technical assistance
Software Upgrades and Improvements
New version releases and upgrades2
Fixes and improvements to existing features
Remote Training Sessions
Quick fix online training sessions as available
BENEFITS
Assistance whenever you need it
Choose how you get help (emails, phone calls)
Always be up to date with the latest version of our software2
Continually improve your Steel Projects PLM software skills
High quality support for a low annual investment
1 Time zone coverage ranges from Pacific Standard Time (PST) in the USA to Central European Standard Time (CEST). Contact us for more information.
2 Only valid within a 'generation' of software release. i.e. Upgrading from the 'WIN' Generation to the 'PLM' Generation of Steel Projects software is not included in the SMART program. Also, each version of WinNest requires purchase of the actual upgrade
The SMART Program is an addition to our existing Steel Projects PLM packages. It helps ensure you are using our solutions to the maximum of their – and your – capabilities: