Steel Projects was founded in 1994 in Vienne (France), where its headquarters remain to this day. Since the first day of its existence, the company has been offering state-of-the-art and innovative technological solutions. Here are some of the milestones of Steel Projects since its foundation:
1980
Mr. Djamel Tebboune, in attempting to optimize his production, decides to create a software program which includes all the information related to the fabrication of a part.
A partnership with an Italian software programmer is created and the first generation of Steel Projects software was launched under the name "Tecno". This is the beginning of the collaboration with FICEP.
1985
1994
Creation of Steel Projects company and launch of the "Win" software generation, such as WinSTEEL, Winser, WinBar, WinNEST, WinCN, etc…
Launch of "Steel Projects PLM" solution - the third generation of Steel Projects software. Steel Projects PLM is a set of business specific software modules for production management dedicated to the steel construction industry. It is the most complete and sophisticated production management software for steel fabricators available.
2011
2013
Following its strategy toward "Intelligent Steel Fabrication", FICEP group acquires Steel Projects and entrusts its presidency to Mr. Didier Bonnet. Steel Projects becomes a business unit of FICEP group.
Continuing the strategy of growth, Steel Projects adds to its North American operations by opening an office in the United States.
2014
2017
Steel Projects launches its first mobile application to analyze the productivity of Ficep machines.
Steel Projects launches its second mobile application to manage manual workstations digitally.
2018
2019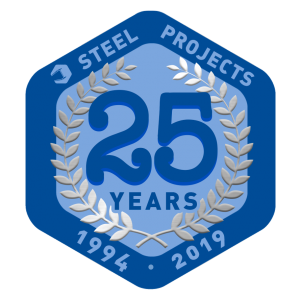 The company celebrates its 25th anniversary! The year was also marked by the acquisition of the Adatsteel software!
More than 2,000 companies worldwide have put their trust in Steel Projects for managing their production. More than ever, Steel Projects continues to grow by offering innovative and scalable solutions that make it a world leader in its sector.
To date